Call for papers
A Special Issue of the MEFANET Journal on "Medical Curricula Transformations – ePBLnet2015"
The aim of this special issue is to bring together results stemming from research of education experts, medical teachers, medical informaticians and engineers, academics and health professionals in order to provide a contemporary snapshot of emerging themes when it comes to transforming and modernising medical curricula. Emphasis is placed upon how new methods of evolving pedagogies, such as scenario-based learning and problem based learning and virtual patients, may be used as vehicles to drive curricular changes in medical teaching institutions.
Original and well-focused papers presenting previously unpublished work will be considered. However, a few viewpoint/review papers are also welcome. A rapid review process will take place within a maximum of 2 months. Final papers are supposed to be published in January 2017.
---
Dear authors,
we take the liberty of inviting you to submit your paper to the Mefanet J, a new periodical focused on following topics:
Progress in modern e-learning approaches and innovative methods in medical education
Medical informatics and its application in research and practice
Impact of interdisciplinary topics related to the medical education
Mefanet J continues in the tradition of post-conference, education-oriented summary proceedings MEFANET Report 01–05, being published since 2007 and recapitulating the topics of e-learning and informatics in medical education presented at MEFANET annual conferences. Full profile of the journal including introduction of editorial board members and all items published so far are available at the Mefanet J website in the section Issues and articles. We kindly ask authors to send their full text manuscripts continuously through on-line submission system: http://mj.mefanet.cz/ojs. All submitted articles will be evaluated by the Mefanet J editorial board according to editorial policies, and the authors will be informed about acceptance or rejection of their article into the upcoming issues. The template for manuscripts is available here.
On behalf of the editorial board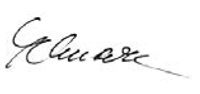 Ing. Daniel Schwarz, Ph.D.